Cloud-based ECM / EDMS
Need a more efficient way to locate your important information?
Move into the cloud with ImageSilo, the world's most-trusted cloud ECM!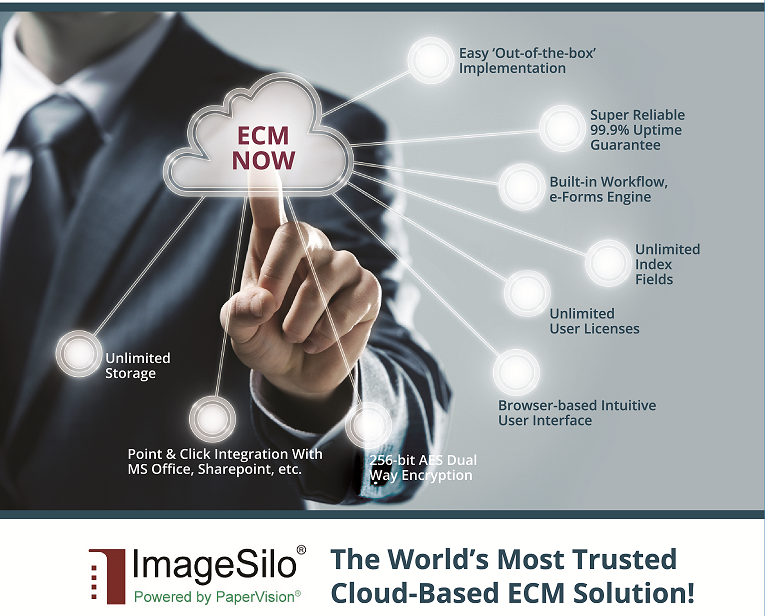 ImageSilo is an ultra-secure, on-demand, Enterprise Content Management (ECM) system,offering all the same features and functionality of an on-premise ECM system. Outsource your data storage with ImageSilo, and get secure online access to information anywhere in the world, at any time, instantly-without capital expense or increased administrative burden.  
Cloud-based ECM  or EDMS, is the most Efficient, Scalable and Versatile Paperless Solutions specially tailored to your needs! 
ImageSilo® delivers the power of PaperVision® through the convenience of the cloud.   
Pay only for what you use.

Struggling with tons of documents?
Running out of storage space?
Can't find that document when you need it urgently?
Need a more efficient way to locate your important information? 

Call us today for a free Demo +603-7880 8821 or Email us: sales@fileforce.com.my

What is ImageSilo ?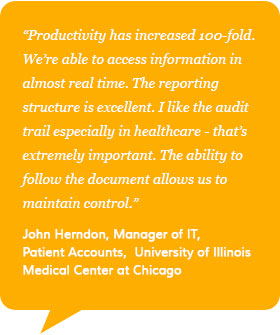 ImageSilo® offers a secure document storage and web-based retrieval solution that provides the ability to access any document, anywhere, anytime from a standard web browser without any software costs.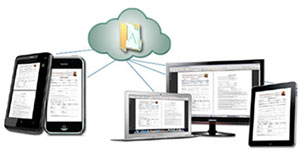 Enjoy 24/7 online data access without additional investment in hardware, software or IT personnel. Outsource Enterprise Content Management (ECM) with this massive, ultra-secure, proven service.

Why ImageSilo ?
Unlimited users, unlimited index fields, unlimited power
scan, upload , store & share over 250 file formats
Ultra secure and reliable 99.99999% up time
Ultra versatile – access your documents safely, securely from anywhere, anytime via internet
Super fast – fuss free setup – you're up and going in a flash
Secure access protocols and document grant features – Safely share and manage your documents 
Reduce Records Management Costs
Improve business processes and customer service with instant online access to information
Free IT departments from managing growing amounts of data with scalable and maintenance free storage
Convert capital expenditures into tax-deductible operating expenses.
Enhance Security and Compliance
Implement information policies with multiple layers of security
Ensure proper procedures are carried out by automating and tracking compliance processes
Gain regulatory confidence with evidence of audit trails, security controls, user activity, document history and records retention policies
Simplify Disaster Recovery
Protect data physically and electronically with controlled access and 24/7 system monitoring
Automate data backups by sending encrypted copies of live information to any secure location
Recover quickly after a disaster – our centralized location allows you to retrieve critical data from any internet connection
Scan2ImageSilo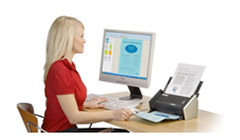 Scan2ImageSilo offers desktop scanning directly into ImageSilo, resulting in significant cost savings by accelerating processing times, increase efficiency and seamlessly integrating document capture into existing processes and workflows. When paired with PaperVision Enterprise Work Flow on ImageSilo, companies can capture and automatically route documents through any business process in their organisation
As a free service for ImageSilo clients, Scan2ImageSilo allows companies to scan and to upload single or multi-page documents directly into the online repository from any TWAIN-enabled scanner

Start scanning immediately! You will eliminate costly and troublesome paper records and usher in a new efficient, effective workplace. PaperFlow improves your productivity and gives you better control of critical, paper-based business information. Plus, it works with PaperVision® Enterprise, ImageSilo®, other ECM systems or virtually any line-of-business application.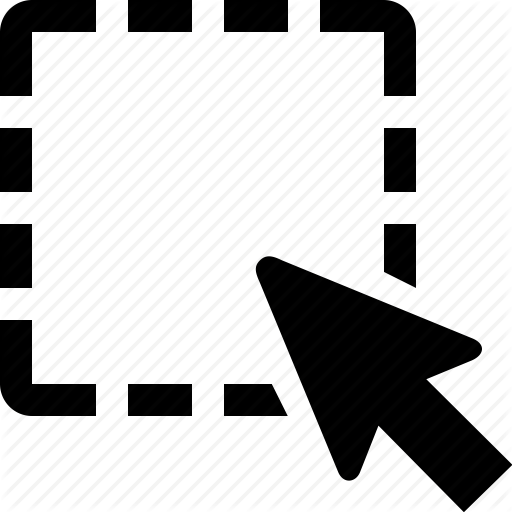 Improve Results through Better Efficiency !  Think scanning your older paper records is too time-intensive? Think again! PaperFlow makes it fast and easy to capture the critical business information you have stored in paper files. Setup the system in minutes using the Job Setup Wizard, which guides you through five easy steps. Create index information without typing a single character! You can automatically populate index values via barcodes and OCR, or use Quick Click to simply click on the term you need in the document image to populate that data in the index field. You can also integrate with nearly any data source and merge data across individual documents or entire batches with Match and Merge. 

Implementing ECM with ImageSilo and PaperVision
What is PaperVision Enterprise®?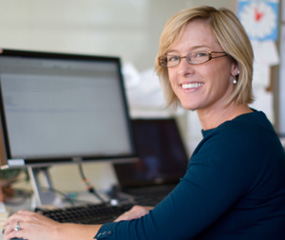 PaperVision Enterprise Securely Manage Information to Improve Business Efficiency. Control access and increase information security using a simple, searchable Enterprise Content Management (ECM) system. Enable automation and tracking of busines processes throughout the information lifecycle.
Benefits of implementing ECM with ImageSilo® and PaperVision Enterprise®:
Reduction of records management costs
Efficiently capture, store, and manage all of your documents electronically.
Find documents instantly
Re-allocate staff time
Ensure every department has the most up-to-date information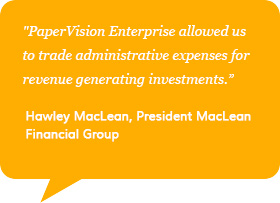 Enhancement of security and compliance
Implement systems without increasing IT requirements
Maintain confidentiality by restricting the viewing or disclosure of sensitive informationt
Ensure your documents stay protected.
Generate reports providing system tracking, disclosure, and document history to enhance accountability
Simplification of disaster recovery
Reduction of records management costs
90% customer satisfactions by fast responding and accessing information

ImageSilo® PaperVision® Paperflow® are products by Digitech Systems Inc.  FILEforce is an Authorized Digitech Reseller.